New Patient Center
Welcome to Central Oregon Chiropractic!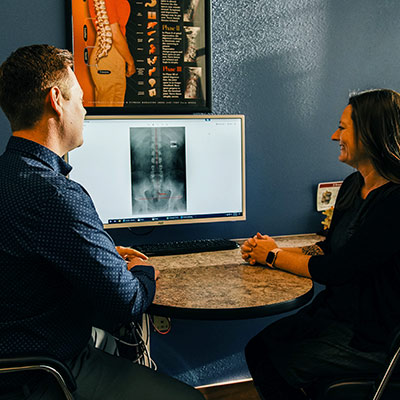 When you enter our office, you'll notice how quiet and relaxing it is, helping you disconnect from the bustle of the outside world. Our staff will welcome you and help guide you through your visit.
Your First Visit
To prepare for your first visit, you'll want to bring your photo identification and your insurance card, so we can help you with any coverage you might have. Please be sure to wear loose, comfortable clothing that allows for freedom of movement. You can complete your new patient paperwork at home, prior to your visit, or you can arrive a few minutes early and complete it here in our office. The information in these forms helps us begin to understand the concerns that you have and your health history. Dr. Rookstool will discuss your health history with you in more detail, including learning more about your current issues and any questions you might have. He'll then perform a thorough examination, explaining everything along the way. In addition, he'll assess your range of motion, perform orthopedic tests, and identify any problem areas along your spine. Using all of the information he's gathered from your health history and your examination, Dr. Rookstool will discuss with you what he's found and what it all means. You'll discuss your treatment options and any questions you might have. You'll also discuss plans for your future care. In all, you should allow about 15 minutes for paperwork and 30 to 60 minutes for your examination.

Future Visits
When you return to Central Oregon Chiropractic for subsequent visits, you should allow approximately 20 minutes for treatment. Dr. Rookstool will ask you about your first treatment and how you felt afterward, and about any changes you've experienced since your last visit. You'll then receive your treatment, with Dr. Rookstool adjusting the treatment style if needed, based upon your discussion. Dr. Rookstool incorporates exercise and soft tissue treatment into his chiropractic care to help speed relief and get you on your way quickly. We understand that chiropractic alone may not bring you relief, or the problem may not respond to care the way you'd like. If that's the case, Dr. Rookstool has a network of other providers to whom he'll happily refer you.
There is nothing more rewarding than helping our patients find the relief they need. Please contact our office to find out how you can get started today.
---
Central Oregon Chiropractic | (541) 923-6024